snappyHexMesh addLayer extrudes nearby patches
Hello, I have been trying to use the addLayer function in my external flow studies. At the moment, I don't have very good control of layer generation near feature edges. So instead of generating layers on all walls, I find that only having layers on bottom surfaces is pretty easy to be done (which means generated layers do not run into each other).
Now I am trying to extend the usage of layer generation in my studies - I would like to use layers on the elevated horizontal surfaces. If you look at the image below, I meshed a box sitting in the domain with layers on the ground and top patch of the box. The box sides and top are created as two different boundaries.
One issue I found is that the layer generation on the top patch of the box extruded the side patches (green lines). Is this behavior intended? Or is there a way to avoid the side patches to be extruded?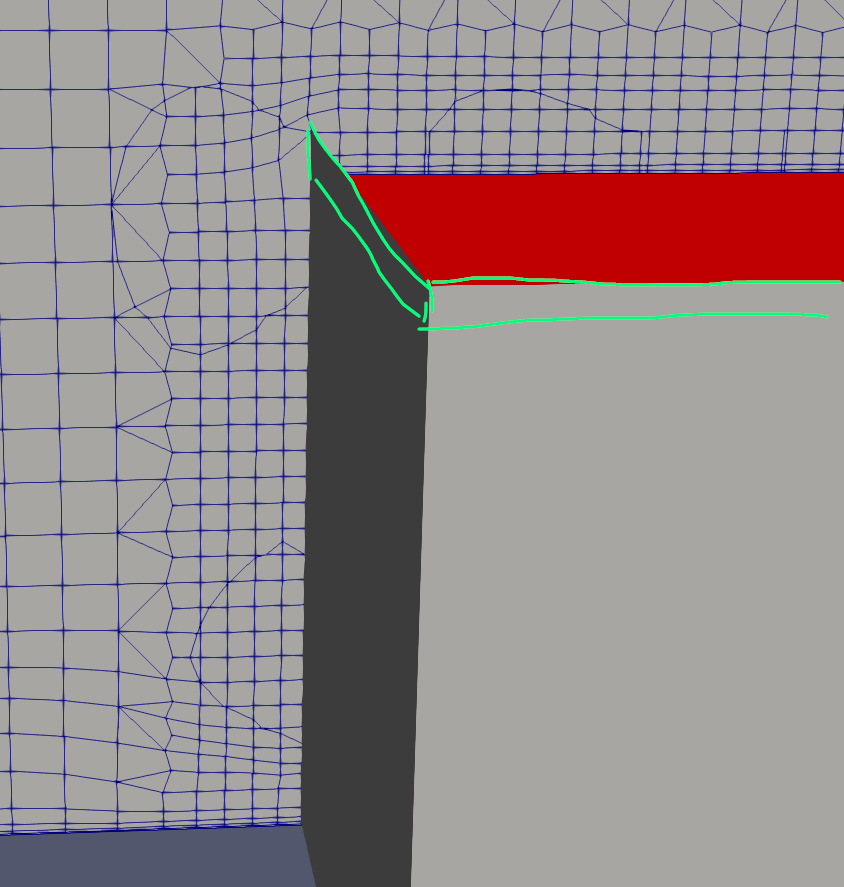 My add layer dictionary looks like this:
addLayersControls




{




      relativeSizes yes;




      thicknessModel firstAndRelativeFinal;




      firstLayerThickness 0.10;




      finalLayerThickness 0.80;




    minThickness              0.1;                          //Minimum overall thickness of all layers, below which surface is not extruded




    nGrow                       0;                          //Close to the features and patches where the layers are not grown, the layer growth can be delayed.




                                                            //  Value gives number of layers of cells where point extrusion is cancelled. With default value 0 points are extruded directly next to the feature.




    featureAngle              160;                          //Angle above which surface is not extruded




    nSmoothSurfaceNormals       3;                          //Number of smoothing iterations of surface normals




    nSmoothThickness           10;                          //Smooth layer thickness over surface patches




    minMedialAxisAngle         90;                          //Angle used to pick up medial axis points




    nSmoothNormals              5;                          //Number of smoothing iterations of interior mesh movement direction




    nBufferCellsNoExtrude       3;                          //Create buffer region for new layer terminations, i.e. gradually step down number of layers. Set to less than 0 to terminate layer in one go






    nLayerIter                 30;                          //Overall max number of layer addition iterations




    nRelaxIter                  5;




    nRelaxedIter               20;                          //Number of relaxation steps (where relaxed mesh quality parameters are used)




    mergePatchFacesAngle      130;                          //Merging multiple faces into one big face generally helps with layer addition.





    //Default




    maxFaceThicknessRatio     0.5;                          //Face thickness ratio above which surface is not extruded, useful for warped cells




    maxThicknessToMedialRatio 0.3;                          //Will reduce the layer growth where ratio of thickness to medial distance is large (typically in narrow cavities)




    slipFeatureAngle           30;                          //Allow the sliding of points on the patch without the layer grown if angle to the patch extrusion direction is larger.





    layerTerminationAngle -180;                             // Do not extrude around sharp edge if not both faces are extruded. Set to -180 always attempt extrusion







    layers




    {




        g-inner




        {




          nSurfaceLayers 5;




        }




        g-outer




        {




          nSurfaceLayers 5;




        }




        w-study-roof




        {




          nSurfaceLayers 5;




        }




    }




    // Advanced settings




    meshShrinker    displacementMotionSolver;




    solver          displacementLaplacian;




    displacementLaplacianCoeffs




    {




        diffusivity     quadratic inverseDistance 1(wall);




    }





 





    // Additional reporting: if there are just a few faces where there




    // are mesh errors (after adding the layers) print their face centres.




    // This helps in tracking down problematic mesh areas.




    additionalReporting true;




}