Summary
Aim
To implement a recirculation boundary condition for an arbitrary operand scalar with:
Multiple connected outlets and inlets
Optional filtration fraction for each recirculation loop
Optional time delay for each recirculation loop
Additionally, write-control of scalarTransport was transferred from controlDict to the function object, and enabled UList parameters in interpolateXY for wider applications.
Previous status
Existing boundary condition: outletMappedUniformInlet
Connected between a single outlet and a single inlet
Instantaneous recirculation: no outlet-to-inlet time delay
Optional filtration fraction is available as a constant value
Optional offset is available as a constant value
Improvements
Arbitrary number of outlets can be connected to a single inlet

Each inlet can be connected to different and arbitrary combination of outlets

Each outlet-inlet connection has:

Optional filtration fraction as a Function1 type
Optional offset as a Function1 type (i.e. adding/substracting a substance)
Optional time delay (from outlet to inlet) as a Function1 type

Each inlet has an optional base inlet-field as a PatchFunction1 type
Theory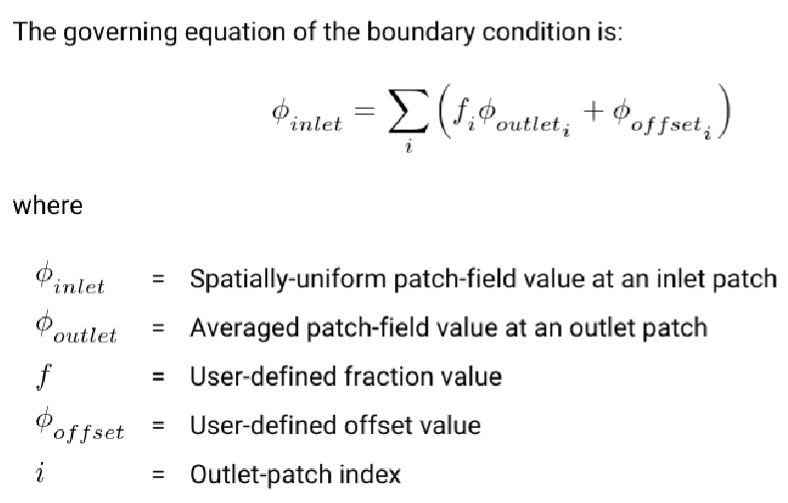 Usage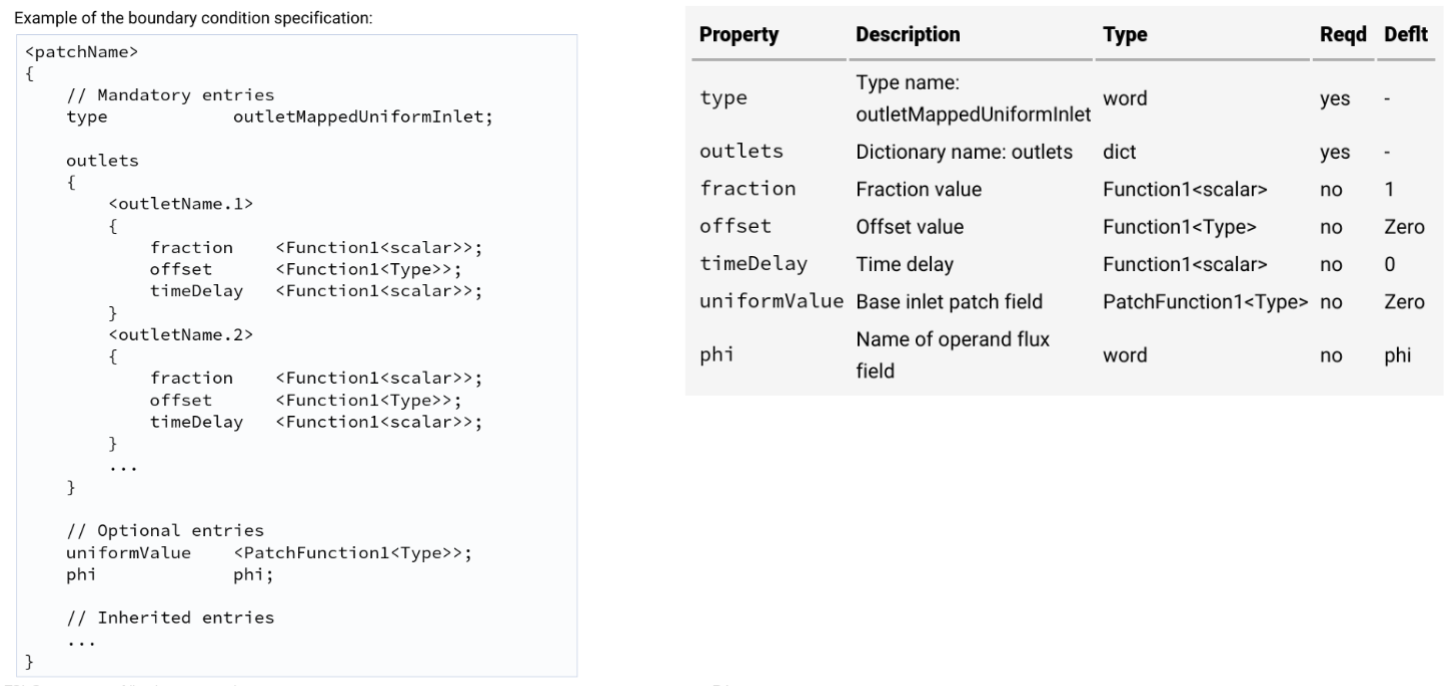 Resolved bugs
N/A
Methodology
Remarks
Difficult to design a simple verification test case due to the amount of data
Verifications were carried out heuristically and manually
No validation/benchmark available
Tests
Cases
Scenarios

Single/multiple-processor run
Single/multiple-processor run with restart

decomposePar
reconstructPar
redistributePar –decompose -redistributePar -reconstruct

No collated-format tests
Only scalar fields
Discussion
No inlet-inlet connection

Could not infer any necessity for an inlet-inlet connection. Happy to be proven incorrect, however.

No constraints were put onto the input entries; therefore, users need to use their attention and engineering judgements to avoid potential unphysical results

Except negative input of time delays are suppresed to be zero without emitting any warning messages.
For example, filtration fraction can be set to any number (e.g. more than 100%)

Needs extensive tests to assume the functionalities safe for any single-phase, multiphase and overset finite-volume applications.
Meta-data
EP#1730
Clean compilation (incl. submodules):

linux64ClangDPInt32Opt (clang11)
linux64GccDPInt32Opt
linux64GccSPDPInt64Debug

Alltest: No new error
Edited by
Kutalmış Berçin
Merge request reports